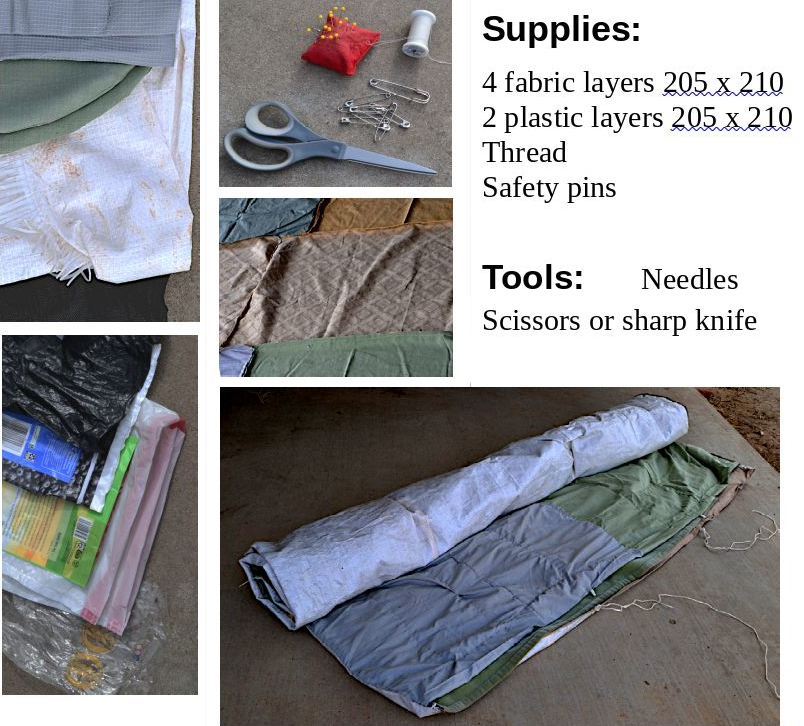 Air Duvet or Insulating Ceiling
Fillo-type layers of plastic film trapping air between fabric layers can brave freezing weather. Tested at 20° F on an insulated mat with a single vellux blanket in the pocket, these covers performed similar to a Big Agnes Mirror Lake sleeping bag rated to 22°, but offered more room to stretch and plenty of space to share body heat with a family member.
Air Duvets can be made of fabric scraps or sheets and cleaned plastic bags or film. An instant duvet can be made with plastic painter's film, landscape fabric and light tarps.
Pull a duvet over several people in sleeping bags or blankets. The next morning take the blanket out for day use. Stop dreading long, cold nights.
Roll up the duvet for transport. When summer comes, hang the insulated panel on a south-facing tent wall to reduce overheating.
Or make duvet panels to provide inexpensive ceiling insulation under tarps or roofing, supported by chicken wire and wood lathe. Use mesh fabric instead of the blanket in the pocket.